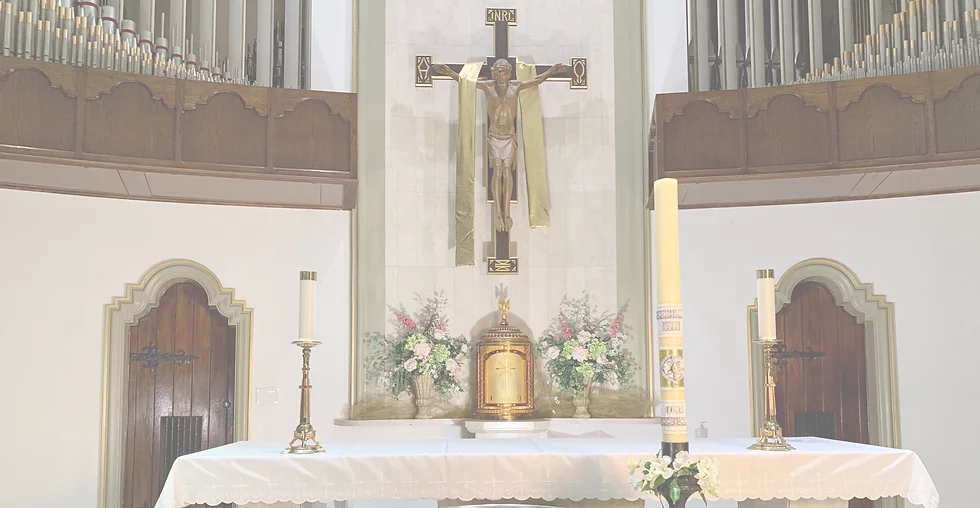 Where Did It All Begin?

Saint Cecilia, the namesake of our church, is the patron saint of church music and art. She is one of the few female saints mentioned in the first Eucharistic prayer of the Mass and one of the most famous virgin martyrs in the Church's history. St. Cecilia lived in Rome during the second century and was killed along for burying the bodies of martyrs during a period of intense Christian prosecution.

St. Cecelia Church began with a dream and a generous benefactor more than three-quarters of a century ago in a small town once known as Clearwater Harbor. When the Church was dedicated on Christmas 1924, the parish of less than 50 members could not have known that one day their church would become a local landmark and an icon of Catholicism in central Florida today.

Robert Brown, a wealthy winter resident, provided the funding for construction of the church. In recognition of his generosity, the patron saint chosen for the church was St. Cecilia, but spelled Cecelia, the name of Mr. Brown's daughter. St. Cecelia gained official status as a parish with the appointment of Fr. Thomas A. Colreavy, its first pastor, in 1929. He served as pastor for 40 years.

St. Cecelia flourished during the 1930s and 1940s, and by the end of the 1950s, the parish included a rectory, elementary school, a convent and a new wing that tripled the seating capacity of the church. From humble beginnings, St. Cecelia Church has grown into a treasured home for Clearwater Catholics. The music ministry reflects well our commitment to St. Cecelia's love of music. Today we worship and celebrate in a peaceful sanctuary on a campus alive with spiritual growth.