We are St. Cecelia Youth Ministry!
Karina Gonzalez- Youth Coordinator
My plan for our Youth Ministry is to become familiar with parish families and help this ministry grow, and bring people to know God. I want kids to find a safe place, a loving place, a place that they want to be at where they enjoy church and their time at St. Cecelia. I want to delete the thought or feeling of "I have to go to church", and turn that around so they can grow in their hearts their need to be at church, and that they yearn for that time with God.

Contact me in the parish office at 727-447-3494 ext. 124.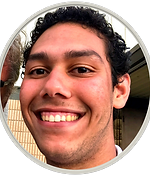 Chris Marte- Youth Ministry Apprentice
I have been at St. Cecelia my whole life, was first with the Hispanic Community, then went through Youth Ministry as a High schooler. It's a blessing to work with the clergy, staff, and parishioners of our wonderful parish.

Contact me in the parish office at 727-447-3494.
During sessions we discuss Church teachings or Scripture, dive into teen-relevant issues, and also just have social time for the teens to have lots of fun and really create those lasting friendships. For dates and information, contact Beth Barringer at dre@stceceliachurch.org. There is a fee each year for the program, and scholarships are available.
Youth group participants have done several events/trips throughout the year in the past: Spring Retreat, Camping trips, March for Life and more. We do some awesome activities over the summer too such as Summer Camps, Mission Trips, Steubenville Conferences, Camping, Whitewater Rafting, among others.