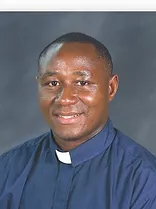 Fr. Theo Weria, ALCP
Parochial Vicar
Greetings and love.
It is a great honor to join you as we continue to journey of faith in our call to love God and our neighbor as ourselves. May Christ lead and direct us by the light of His Gospel.
I was born on the slopes of Kilimanjaro in Tanzania, E. Africa. I am the ninth of eleven children in the family. After my high school and advanced high school, I joined the religious community – The Apostolic Life Community of Priests. After two years in the community, I studied at Spiritan Missionary College for Philosophy and at St. Charles Lwanga Seminary College for Theology.
Then, I was ordained to priesthood in 1998, and serve in Tanzania for the first three years. Then, I have served at several parishes here in the Catholic Diocese of St. Petersburg. Also, I had opportunity to study at St. Leo University with BA in Mathematics. As always, my joy is to serve God's people by doing my ministry as a priest. The greatest joy for me as a priest is when I fulfill m y call to pray and service.
View All Staff Members